Mick Jagger, L'Wren Scott, Rachel Weisz and Naomi Watts are among the concerned celebrities who have contributed generously to Dr. David Colbert's efforts to raise funds and awareness for Haitians who lost limbs in January's earthquake.  They all appeared last Thursday in New York City to help host a benefit for Hanger, Inc., the largest designer and distributor of prosthetics in the world.   The money raised will help Hanger continue to bring replacement limbs and crucial medical care to the more than 5,000 Haitians who lost arms and legs in the earthquake.  One of the evening's highlights was a live auction featuring signature guitars rounded up by Mick from his friends Bono, Keith Richards, Bob Dylan, Bruce Springsteen, Bryan Adams… and a red Baby Grand piano signed by Mick himself.
Here is the link to the Huffington Post article: Benefit for Haiti: More Prosthetics on the Way
Benefit for Haiti: More Prosthetics on the Way
By Alicia WhitakerHuman
Posted: May 5, 2010 2:33 PM
Shortly after the earthquake in Haiti, teams of doctors volunteering to help made their way to Haiti with supplies and equipment for field hospitals. The horrific result of this particular earthquake and its impact on a country of fragile buildings led to an unprecedented number of amputations – the current estimate is upwards of 5,000 people. In other major earthquakes, lost limbs have numbered in the hundreds, not the thousands.
One of those doctors was Dr. David Colbert, a NYC-based dermatologist and internist who also has experience as an emergency room physician with advanced wound care expertise. Trained in France, he speaks fluent French and has learned enough words in Creole to make an enormous difference to the frightened patients he encountered early in the crisis, who were coping with crushing injuries and serious infections in broken limbs that made amputation the only option. Some had waited for treatment for several days and their limbs now could not be saved.
Colbert assisted in several emergency amputations, including one for a young man named Wilfred who insisted he'd rather lose his life than his leg. It was Colbert's job to convince him otherwise, and he promised the skeptical Wilfrid he'd find him a state-of-the-art prosthetic. The boy was wheeled into surgery.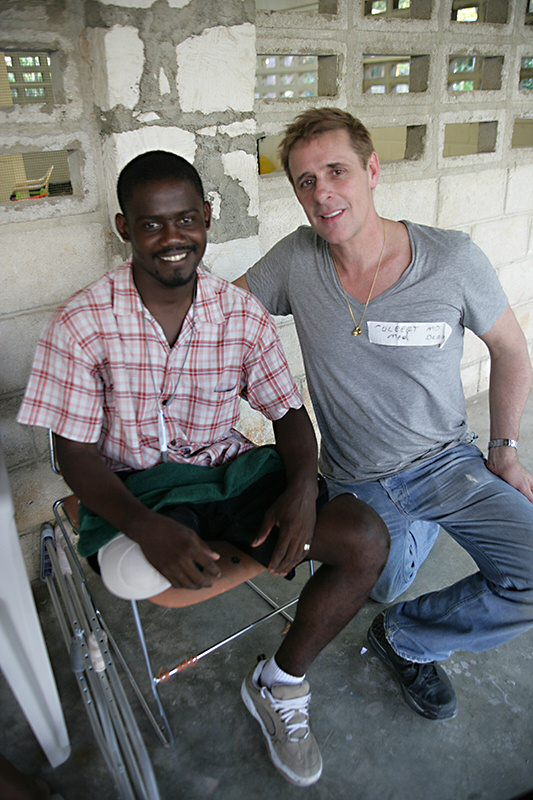 Colbert came back to NY determined to raise awareness and money for prosthetics and the related services that make them work in a country where low-tech is the approach of choice because of issues with money, infrastructure and skills. He reached out to the Ivan Sabel Hanger Foundation, allied with Hanger Orthotics and Prosthetics, the world's largest maker of prosthetics , and decided to partner with them to make it happen.
Terry Reed, an NYC-based author and screen writer and a recent collaborator with Dr. Colbert on a diet and nutrition book, The High School Reunion Diet, recently traveled to Haiti and headed to the Albert Schweitzer Hospital in Deschapelles, now the site of a prosthetics clinic. Here's her report on what she found:
"During the earthquake, hundreds had been transported here over rough roads from Port-au-Prince and lay waiting in the courtyard for medical attention. When the Hanger people offered materials and expertise for the devastating number of amputees, the hospital gave Hanger a building for a clinic. In the front of the clinic, the technicians fit limbs for the people who arrive on crutches, in wheelbarrows, on the backs of mopeds. There's a wing where the therapists teach the newly fitted to walk. They make the prosthetics in the back of the clinic, in a factory. The knee joints, elbows and other mechanical parts are flown in, but much of the artistry happens on site, where a custom leg is created by hands that understand the mysteries of weight bearing and tibia bones and patellas. The day I was there, a small team of hard-working designers and technicians made sixty three legs."
Back in New York, designer L'Wren Scott, a friend of Dr. Colbert's, enlisted the help of her boyfriend Mick Jagger to spearhead a benefit that will take place on Thursday, May 6. Together with Dr. Colbert, Reed, David Scott and other members of the doctor's newly-formed foundation, they have attracted a large group of celebrities who are lending their names, donating goods for an auction and giving money for the cause. Among them are Rachel Weisz, Catherine Zeta Jones, Michelle Williams, Sienna Miller, Jude Law, Helmut Lang, John Currin, Rachel Feinstein, Naomi Watts, Zac Posen, Christopher Niquet, Edie Falco, and Margery and Ted Mayer.
Auction items include art and photography, couture gowns and jewelry, guitars signed by Jagger and the Rolling Stones and a number of other special donations from artists, designers and musicians.
The benefit and auction will be held Thursday, May 6th, 2010 at The Greenhouse, Scholastic, 557 Broadway, New York. The event includes a VIP Reception from 6 to 7:00 PM and a Cocktail Party and Auction from 7-10PM Tickets, list of auction items and more information are available at www.nydgfoundation.org/haiti
Keith Richards Guitar. Gibson Custom Shop ES 355. Ebony with Gold Hardware.  Signed by Keith Richards. Up for auction at Rx: Haiti Benefit, this Thursday, May 6th.  Please see newyorkdermatologygroup.org
Dr. David Colbert's humanitarian trip to Haiti after the earthquake inspired him to ask his contacts in New York to help host a benefit for the 5,000 earthquake victims who lost  limbs.  In association with Hanger, Inc., the largest maker of prosthetics in the world, the benefit will feature live and silent auctions with covetable items like guitars signed by The Rolling Stones, Bono, Bob Dylan and The Boss; art and photography; designer dresses and bags… even an exclusive Mediterranean cruise.  For a complete list of auction items, or to donate $ for the people of Haiti who still await replacement limbs, please visit www.nydgfoundation.org.  And watch here for a preview of the loot available both live and on line at the auction!  Guaranteed: you're gonna get it for a song!!!
If y'all remember Wilifred from Dr. Colbert's story in the The New York Post a few months ago, he is a young Haitian whose right leg was crushed in the earthquake.  He had screamed in protest not to amputate, and Dr. Colbert, who assisted in the surgery, promised he'd get him a state-of-the-art prosthesis.  Here is Wilif
red in Port-au-Prince last Thursday.  He loves his new leg, designed and fitted by Hanger, Inc., who now has a major philanthropic presence in Haiti, and is helping thousands of people, mostly young and athletic, walk again.  Hanger is a partner with Dr. C's foundation in the benefit Rx: Haiti scheduled May 6th.  Please come if you can, or donate $$ if you can. More info at www.nydgfoundation.com/haiti
NYDG Foundation: 
Rx Haiti
BENEFIT TO PROVIDE ONGOING MEDICAL CARE FOR HAITI
THURSDAY, MAY 6, 2010 
6:00PM VIP RECEPTION 
7:00PM COCKTAILS & AUCTION 
THE GREENHOUSE 
557 BROADWAY, NY 10012 

Proceeds from the event will provide prostheses for earthquake victims who suffered loss of limb: now identified as the major ongoing medical need of survivors. 

The evening will include music, cocktails and an auction featuring the works of major artists and photographers, clothing, jewelry and other special donations.
For more information visit http://www.nydgfoundation.org/haiti/
Shortly after the earthquake, Dr. Colbert (an internist as well as a dermatologist, with a fellowship in wound healing and ER experience) visited Haiti to help treat the countless victims of the disaster.  His accounting of his trip , and his assessment of what medical follow-up would be needed in the future, was published in The New York Post on February 7.  The article drew attention from many prominent people anxious to continue helping the Haitians recover from the devastation, and led to the establishment of Dr. Colbert's not-for-profit organization, NYDG Foundation.  A benefit hosted by Dr. Colbert and several celebrities will be held in April.  Link here to The Huffington Post to read how you can help the Haitian earthquake victims, and for details about the event.
http://www.huffingtonpost.com/alicia-whitaker/nyc-dermatologist-mobiliz_b_47
<http://www.huffingtonpost.com/alicia-whitaker/nyc-dermatologist-mobiliz_b_4
7>
 6680.html
 It's posted on the NY page and the title is "NYC Dermatologist Mobilizes
the
 "A List" to Help Haitian Amputees"